9月 To be released
Shinso-Ban
Ippo Nihongo Sanpo Kurashi no Nihongo Kyoshitsu Shokyu 1
Step One, Step Two Step Three:
Japanese Lessons for Daily Life, Elementary 1 - New Edition
As we have made the audio content of the CD that came with the previous edition available on our website, it was decided to make this new edition of the book.

As there has been no change to the content of the book, people with the old edition can carry on using it.

This is a learning material that, with the aid of language volunteers, aims at helping people studying Japanese for the first time to learn basic sentence patterns and be able to speak about themselves in a short period of time.

The book is written in hiragana and katakana, but in the first half of the book, the kana is given with Romanized readings, so it can be used even by people who are initially unable to read kana. Also, the book contains a kana study section, so the learner can study kana while doing lessons in the book.

Each section also has teaching tips and useful advice for volunteer or inexperienced teachers.

The following items are available as supplementary study materials: a recording of the conversations and vocabulary lists in English, Chinese, Korean and Vietnamese.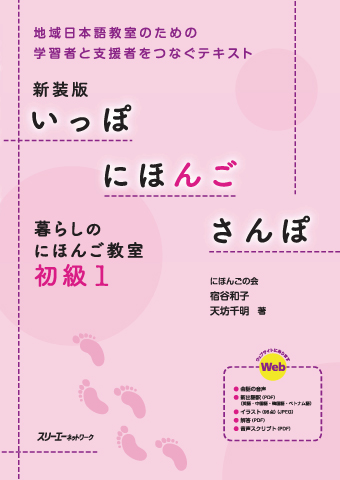 9月 To be released
Shinso-Ban
Ippo Nihongo Sanpo Kurashi no Nihongo Kyoshitsu Shokyu 1
Step One, Step Two Step Three:
Japanese Lessons for Daily Life, Elementary 1 - New Edition
Written by: 

Price: 本体2,400 yen+tax

Book size: B5
Number of pages: 197
ISBN: 9784883197910
Related books